Aaja Meri Jaan Lyrics - I Love NY
Aaja Meri Jaan is a romantic song from Sunny Deol and Kangna Ranaut's starring film I Love Ny (New Year / New York). This song is a composition of Pritam. Sayeed Quadri / Mayur Purifrom has penned its lyrics. Song is picturised on Sunny and Kangna. Kangna is very looking gorgeous in this song. I Love NY is a 2013 Hindi movie starring Sunny Deol, Kangna Ranaut and R. Madhavan.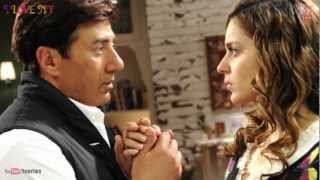 Aaja Meri Jaan Song Detail
Song: Aaja Meri Jaan
Album:
I Love NY
(2013)
Singer: Mauly Dave
Musician: Pritam Chakraborty
Lyricist: Mayur Puri
Star Cast: Sunny Deol, Kangna Ranaut, R. Madhavan etc.
Aaja Meri Jaan Lyrics
Ho aaja, aaja meri jaan
Rootho na hamse sanam
Tumhe hai meri qasam
Le jaye jaan meri yeh duriyan
Aaja! aaja meri jaan
Rootho na hamse sanam
Tumhe hai meri qasam
Le jaye jaan meri yeh duriyan
Tumne kahaa tha saat phere
Sath tere le lu abhi
Aankhon mein meri aaj phir yun
Aa gaye kyun aansoo abhi
Bolo, bolo zara tumhi
Wada yeh tha ke nahi
Tu hai jahaan main wahin
Phir kyun ab tak yun hain yeh duriyan
Jagmaga raha raaton ka samaa
Jilmila raha raaton ka samaa
Taaron se saja raaton ka samaa kahne laga
Aaja! aaja meri jaan
Rootho na hamse sanam
Tumhe hai meri qasam Le jaye jaan meri yeh duriyan
Tarsa ho koyi yeh suna tha
Magar hum sa tarsa nahi
Meelon chale phir humne jaana
Koi thikana ghar sa nahi..
Mud ke... mud ke baahein meri
Pukaare baahon ko teri
Chali main raahon ko teri..
Lag ja seene se kaisi yeh duriyan
Manzilein kahaan, raaste kahaan
Kise hai fikar jaayenege kahaan
Kise hai pata le chalo jahaan
Dil hai rawaan
Aaja! aaja meri jaan
Rootho na hamse sanam
Tumhe hai meri qasam
Le jaye jaan meri yeh duriyan