Call Lyrics - Daljinder Sangha - R Guru
Call Lyrics in ths voice of Daljinder Sangha is a new punjabi song written by Avtar Chahal, its music is composed by R Guru. Get Lyrics along with the video.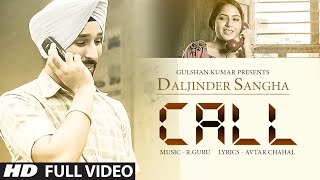 Call Song Detail
Song: Call
Category:
Punjabi Songs
Singer: Daljinder Sangha
Musician: R Guru
Lyricist: Avtar Chahal
Call Lyrics
R Guru!
Yaari jado meri ohde naal hundi si
Char ge rupaiye pehndi call hundi si x (2)
Ghar vich ohde landline hunda si
Ghar vich ohde landline hunda si
Bebe chakk le na rakh di khayaal hundi si
Yaari jado meri ohde naal hundi si
Char ge rupaiye pehndi call hundi si x (2)
Kitthe oho gaul di si jeth de maheene nu
Deed de bahaane set karein antine nu x (2)
Dooro dooro sat sri akal hundi si
Ankkhan naal puchhdi sawaal hundi si
Yaari jado meri ohde naal hundi si
Char ge rupaiye pehndi call hundi si x (2)
Ban-da hunda si yaaron main vi pag pohnch ke
Tede cheere oh vi kad di si soch soch ke x (2)
Fashiona naal baundi nit baal hundi si
Ghutt neeri aag wali naal hundi si
Yaari jado meri ohde naal hundi si
Char ge rupaiye pehndi call hundi si x (2)
Sachcha si pyar kari mehar Kartar ne
Sada lai apni bana li Avtar ne x (2)
Rakhdi vrat har saal hundi si
Teri hona kendi har haal hundi si
Yaari jado meri ohde naal hundi si
Char ge rupaiye pehndi call hundi si x (2)